Name: Samael
Name Meaning: Venom of God
Gender: Genderfluid but, predominantly male
Birthday: Unknown
Age: Unknown
Eyes: Red/Orange
Hair: Ebony
Height: 6'2'
Weight: 176 lbs
Build: Muscular
Race: Archdemon
Occupation: Embodiment of Castlevania
Status: Living
Relationship Status: Single but, has his sights on a beautifully sad Marionette
Next of Kin: The Monsters of Castlevania
Clan: Unknown
Background:
Samael's origins are unknown, even to the Lords he has played host to over his many centuries of life. However, what is known is that he was a creature, a demon, born of Chaos. He was created to become a catalyst of power for any creature that wished to seek it. He was made to be undyingly loyal to any "Lord" that took over his demonic architecture. It so happened that one dark evening, in the late 11th century, that fate brought Lord Dracula upon his doorstep. He would greet the man plagued with hatred for humanity like an old friend, making it so that Samael's strength was his Lord's strength. He would become fond of his new Lord, enough so that when Dracula approached him about creating an Army of Darkness, he did it without hesitation as was his nature. Samael would "father" the millions of monsters within his walls and the many that would plague the world and spread his Lord's influences.
Powers/Weapons:
Samael had power over the entire infrastructure that is the Demon Castle, Castlevania. If he so desires it, he can create new rooms or remove them all together. He can conjure up traps and transform the whole format of his hallways when he deems it necessary. He can make the lives of mortal hunters hell by simply locking doors that used to be open, barring entrances of doors that should open easily, and lead them into rooms Samael wants them to be instead of where they need to be. It brings Samael great enjoyment to see mortals suffer, finding it like nothing more than a sick game where
he
is the Game Master.
Fun Facts:
Samael is not always living within the walls of his Castle. In fact, a majority of the time, one can find him wandering the halls looking like nothing more than an innocent mortal butler that is more than happy to "help" fellow hunters on their quest. But, be warned. Looks are deceiving and one should avoid this overtly kind butler at all cost unless they wish to find themselves served on a silver plate before the monsters of Castlevania. He also has another form, a form that shows his truly demonic nature. A form that an inexperienced hunter should avoid at all costs.
In his butler form, if one falls for his kind face and soft voice, they will find him bringing them within the dining hall of the castle and feeding them all sorts of appetizing food. After all, mortals need to eat, especially strong hunters. However, it is advised that mortals to not consume Samael's food. A majority of the time, he has poisoned to make hunters gradually weaker until they can fight no more. Sometimes, Samael will change it up and laced the delicious food with a sleeping draft. The next time the mortal finds consciousness, they will find themselves being presented to fellow monsters of the castle, or eve, Lord Dracula himself. Of course, even if one is aware of the food's true intentions, it is advised to approach turning it down as pleasantly as possibly. Throwing Samael's hard work to the fool will only insight the Castle's rage and, you'll regret it in the long run...
Samael is very close to a certain Marionette that dances in his hallways and within his gardens. He finds her beauty addicting and he wishes to add her to her collection of precious dolls he keeps in the Doll Room.
Despite being nothing more than an embodiment of Castlevania's will, he does enjoy music. It is a trivial thing but, he has found the sound of a violin to be his favorite. Sometimes, one can hear the soft melodies of a violin echoing through the castle.
Demon Form: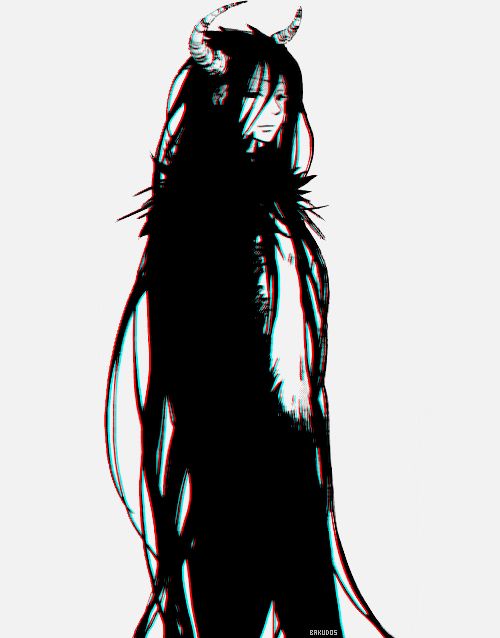 Butler Form:
------
Name: Villisca
Name Meaning: Unknown
Gender: Female
Birthday: October 25
Age: 300+
Eyes: Purple
Hair: Ebony
Height: 5'8
Weight: 850 lbs (including spider body)
Build: Slender
Race: Arachne (Half-Spider/Half-Human Hybrid)
Occupation: The Silkweaver
Status: Living
Relationship Status: Single
Next of Kin: Many, MANY baby black widows
Clan: Unknown
Background:
Villisca had been a cruel and vain countess that shared rule over a small and dark kingdom in the farthest reaches of Romania. Many avoided the place altogether, refusing to even acknowledge such a place existed until it simply was forgotten. Of course, such thinking caused the residents of such a devilish place much sadness and grief, especially with Villisca and Dimitri's iron fist. However, Dimitri's role as count of the lands would come to an end when Villisca tired of him. She didn't like "sharing" and, on one fateful night, she would dispose of him in a most brutal way. Then, she would simply step up and become the one and only ruler of the lands. Simply making life even worse for the denizens until they had enough of her tyranny and senseless killing for pleasure. They would pray to the Almighty Lord for aid and strength to last one more year. They would get their aid, their last hope, in a form of a strange and radiant stranger. An angel of justice disguised as a simple traveler. Unbeknownst of this stranger's true intentions, Villisca put on a fake kindly smile and allowed the traveler entry into what was to be her prison. The angel would see the poverty and hopelessness in the eyes of the villagers. She would see the vanity and cruelty of their "leader" and she swiftly moved to put a stop to it. She would enter the countess' castle and curse her under the Holy name of God to become the monster that her tyranny had caused her to become. Villisca would be cursed to become an Arachne before she was banished and allowed to never return.
Saddened by her new and "ugly" form, she removed herself from completely from the world and cooped herself into a dark cave. She would make her home deep within the Forest of Eternal Dark until, she was approached by an old man 300 years later. He called himself Dracula and she was infatuated by his beauty, by his
power
. He was not like Dimitri and she wanted to have him all to herself. Of course, he didn't return the feelings but, he was able to persuade the Arachne to join his war against humans simply because she wished to make the ones that caused her to become so "hideous" suffering and pain like she had done in life. Lord Dracula had promised her that and more. She gleefully accepted and become a valuable asset in the war against humanity for many years while also finding a hobby within the Castle of silkweaving. Meanwhile, she also attempts still to this day to woo Dracula's heart to belong to her...
Powers/Weapons:
Villisca was cursed to become a Black Widow Arachne, one of the more dangerous types of Arachne out there. Therefore, she has the very same dangers that the Black Widow has. Her bite is deadly and it will kill victims in a matter of minutes if an antitoxin isn't administered immediately. Villisca's lower section of her abdomen is that of a Black Widow, hourglass and all, and it is quite the terrifying thing to behold. It is even more terrifying when a foolish souls has found themselves within her room in the lower sections of the Castle and find themselves caught within her strong web, wrapped into a tight cocoon ready to be her next meal or her childrens'. Her millions upon millions of children that cover the walls and cobwebs of her room that she has conjured to be her company in her lonely existence.
Fun Facts:
Despite her isolation from the rest of the denizens of the Castle, she has made quite good friends with the vampire Carmilla and her sweet daughter, Adeline; if only because the three of them shared a mutual dislike for a certain human mortal Lord Dracula had become fond of for a time.
She uses her babies as her eyes inside the castle when she doesn't wish to let herself be seen by the other monsters. Even with her current form, she still remains vain as ever.
She is obsessed with the Dark Lord, having attempted countless times to court him and lure him into her room. However, every attempt has failed but, she doesn't allow that to stop her in her pursuit for the vampire's affections.
---
Name: Gideon O'Flaherty
Name Meaning: Destoryer
Gender: Male
Birthday: October 10, 1460
Age: 558
Eyes: Green, with black scleras
Hair: Brunette
Height: 6'2"
Weight: 176
Build: Toned
Race: Demon
Occupation: Horseman of Pestilence
Status: Living
Relationship Status: Single, and loving it!
Next of Kin: None
Clan:  Uí Briúin Seóla branch of the O'Flahertys
Background:
Once upon a time, Moira and Gilla O'Flaherty would have a beautiful baby boy. A boy with a bright smile, warm heart, and compassion. A boy dubbed Gideon. They doted upon him and taught him everything he ever needed to know. He was en route to being groomed into becoming a Chieftain when his life was turned upside-down. His family's warring clan, the O'Conners, took advantage of his clan during a celebration and he watched as his family was brutally killed in front of him. Only a few survived the excursion. One being his cousin, Malcolm.
He would carry his cousin through the Irish lands until they found the O'Flaherty stronghold. There the decision was made to send the young boy to a temporary home for his protection. The O'Conners were out for his head and the rest of his clan didn't wish to see the last of Gilla's blood spilled. The O'Flahertys would contact the Chisholm clan and, within a few weeks, the young boy was sent to the Highlands to live the rest of his life in relative safety with allies. And it was safe.
Gideon would become increasingly close with the Chisholms, learning their dialect and their traditions eagerly. Furthermore, as he grew older, he fell hard for a particular Chisholm. Voica. She started as a sister before becoming a lover by the time the two of them came of age. And the loved one another. They adored one another. Planned to marry in holy matrimony and have a family that both desired.
However, such happiness didn't come to fruition.
It was taken from Gideon. A decision to wander into the Glens in search for wedding present would bring the Irish man to the Unseelie Court. He was sat before Nicnevin, the Queen of the Court, and given a choice to join her side. She had been impressed by his skills and wished to use them for her own gains. She offered so much to Gideon but, he turned it down. He wanted to settle down more than he ever wanted power. This didn't please the Unseelie. She would put on the facade that she understood his decision, offering him a meal before she let him on his way. Gideon hadn't thought nothing suspicious about it and had foolishly consumed an unseelie meal that was poisoned with madness.
He would be let on his way back to his clan but, was plagued with visions, voices, and a madness that worsened as the weeks wore on. It became severe, forcing him to see his own clan as the enemy and consuming him with thoughts that he should destroy them. He would betray the one he loved and the family that had taken him in. He would pit two clans, the Chisholms and Greggwulfes, against each other because the voices egged him to do so. It would end when Voica's blade cut through his neck and his soul was sent to the Ninth Circle of Hell for his grievous crimes.
For centuries his lost soul would be tortured. The madness the Unseelie food had cursed him with was gone but, he gained anew during his life under Lucifer and Hamza's grips. It was relentless, breaking him until he was able to be used as their lapdog. As their pet. A rabid dog that they used to do their dirty work. And Gideon did well in this role. He got rid of demons that were against Lucifer's best interests for years until Lucifer's son, Samael, felt Gideon's abilities were being wasted. Pestilence had just died and the Horsemen were struggling as a result. Considering his skills and state of mind, Samael felt Gideon would be the perfect fit. And so he was...
He would be initiated after Gideon proved himself, becoming more than a pet being used by those took advantage of his mindset. Of course, becoming Pestilence allowed the damage done to his psyche to remain permanent. Incurable insanity and disease blood became his reality. And Gideon reveled in it. It would bring him to the mortal realm more times then not, making the Horseman of War have to lock him in a cell like a madman just to keep his pandemics controlled. Of course, he was only able to be contained for so long.
When he heard Samael had been cursed into the form of castle by his father. He escaped, joining his friend and becoming a general of Dracula's army even though he is hardly as loyal as some of the others are. He is only around for the disease and suffering of the mortals.  
Powers/Weapons:
Power over disease in all its forms. A touch, a kiss can infect his victims with anything Gideon chooses. Even a look can inflict insanity. Apart from this, Gideon is agile and skilled in swordsmanship. He uses his handcrafted knives to advantage, disabling even the most brutish warriors with a few cuts here and there.
Fun Facts:
Gideon loves Whiskey but, even more so, he ADORES Absinthe. The effects it has on his mind after consumption are really the only reason he prefers it over Whiskey in some situations.
He has a huge collection of knives in his room of Castlevania. Some are handcrafted and some are trophies. He hardly uses his trophies in battle unless they have particular qualities that could prove useful against his enemy. Despite his huge collection he still continues to forge more knives when the inspiration hits him. After all, he does get rather... inventive with his designs.
His head had been decapitated in life and it followed him to this life. The head and neck are held together by Gideon's will and black stitches. Infected veins spread from it, along with two scars over left eye that were given to him when he was initiated into his role. Furthermore, infected veins, undecipherable Gailege and insane rambles can be noted on his arms. Gideon inflicted such things on himself, enjoying how it looks like tattoos with how his necrosis effects his wounds.  
Extremely good friends with Samael and Damien. They have each others' back and it would be unwise to go about threatening either one of them with this in mind.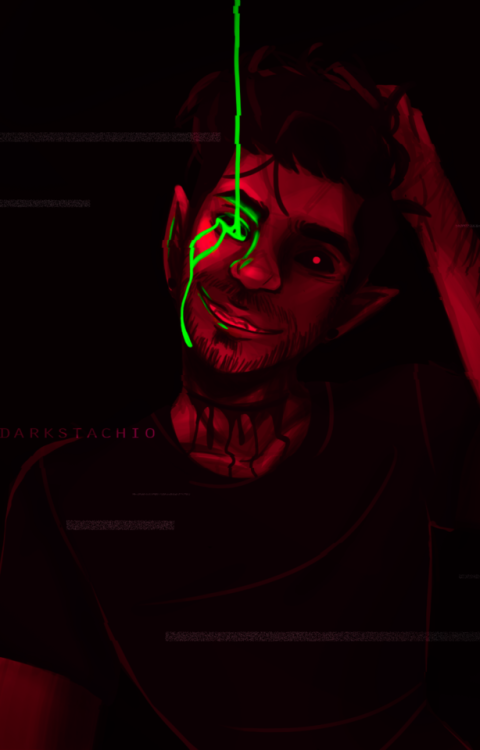 ----
Name:
Obscuritas
Damien
Name Meaning: One Who Tames
Gender: Male
Birthday: Unknown
Age: Unknown
Eyes: Red, with black scleras.
Hair: Ebony
Height: 6'5"
Weight: 176
Build: Toned
Race: Eldritch Demon
Occupation: Lord of the Void, Embodiment of Fear, and King of Monsters
Status: Living
Relationship Status: Single
Next of Kin: Monsters and anything else that breeds from fear
Clan: None
Background:
Obscuritas was created by Creation as the embodiment of fear. The demon was placed into the Void when it was realized that looking upon Obscuritas' terrible form induced insanity or death to those unfortunate to lock eyes upon its terrible true form. It was a terribly lonely existence but, its powers allowed it to bend reality of the Void itself and create creatures to keep Obscuritas company. This only entertained and amused the monster for so long. Eventually, it would branch out. Stretching its powers to allow it to tear through the fabric of its reality and bring Obscuritas into the mortal realm. Obscuritas would concentrate its power, putting himself into a mortal visage as he wandered around and brought his fear into the hearts of his victims at a more personal level. He picked a handsome face, a mask that worked to his advantage so very well.
His travels through the mortal world would bring him to Dracula's doorstep. A man that held fear in his grasp appealed to Damien and he put his abilities to use within Castlevania itself. In the meantime, becoming friends with Samael and Gideon as they shared common interests.
Powers/Weapons:
Dark tendrils from his true form are under his direct control, along with the several eyes that can appear upon his facade. Looking into them can drag his victims into a lulled sense of sleep that will be plagued with nightmares. In scenarios where his victim can resist, Damien can bring his Void into the reality and bring his victims' worse fears into their reality. It is a terrifying ability he possesses but, one he does enjoy.
Fun Facts:
TBD
---
Name: Crowe
Gender: Male
Birthday: November 1
Age: 24
Eyes: Black. When using his magic, they glow purple.
Hair: Ebony that fades into a deep, dark purple
Height: 5'9"
Weight: 176
Build: Toned
Race: Warlock
Occupation: Archbishop of the Dominus Dracul and General of Dracula's Sorcerers
Status: Living
Relationship Status: Single
Next of Kin: None
Clan: Unknown
Background:
Crowe hadn't always been known as Crowe. He used to have a name that was given to him by his mother, his father, and the fanatical cult he grew up into. But, it has been long forgotten. After all, it had reminded him of his parents. And he had hated his parents. They treated him like he was tool and beat him when he didn't listen. He was expected to be perfect in everything he did, to follow the Dogma closely, and to be the one that would bring their Savior to life. It was quite the weight to be put upon his shoulders but, his parents cared little. After all, love was seen as a weakness.
Even with this in mind, their berating words only drove Crowe further to prove himself amongst those of the Dominus Dracul. And he would indeed prove himself. His power was incredible. The illusions he could cast, the dark arts that brought the sacrifices to their knees, the cult had never seen such abilities before.  Of course, such members had no idea of his ancestors and that his blood held the power of generations of warlocks and witches coursing within. Nevertheless, he would move through the ranks of the Dominus Dracul, becoming Archbishop and reviving Dracula within a year afterwards. Upon his revival, Crowe would remain by his side, becoming a General over the Sorcerers that Dracula collected for his army and bringing his magical knowledge to good use.
Powers/Weapons:
Crowe's affinity is illusions but, his skills are far more vast. He has a particular interest in blood magic in its rawest form, along with various dark arts that have manipulated his form overtime. His eyes have darkened to look more like that of a ravens and his face has gained scarring around his eyes and cheeks. Furthermore, he is an Animagus and has the ability to change to a crow at his leisure.
Fun Facts:
TBD